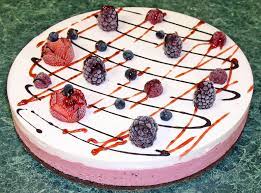 Our Gelato cakes are made from any of Today's Flavors we have available.
We produce them in the Italian "semi-freddo" style, meaning "half-frozen", which creates a perfect consistency and no need to let the cake sit out before serving. We have three different size cakes:
6 inch (serves 4-6)
8 inch (8-10)
10 inch (12-14)
Each has a thin chocolate sponge cake base and the flavor(s) of gelato or sorbetto of your choice.
We can do any single flavor, a blend or two, or for an additional charge, we can layer two flavors.
All cakes are decorated with fruits and drizzles and writing is available free upon request. Please allow at least 24 hours for us to produce your cake or pie.
Also try our pies!